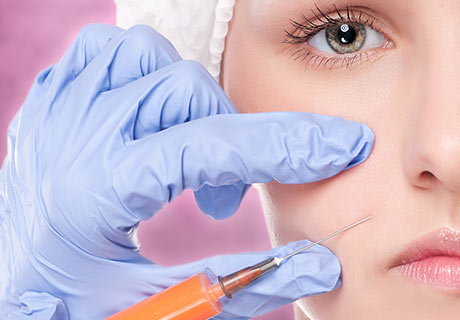 The face represents our image before the society, it is actually important that our look is an expression of our vitality and energy, so many patients wishes to correct the expression lines in different areas of the face, both in the forehead, between the eyebrows, crow's feet or nasogenian lines (between the nose and the mouth).
Facial lipoinjection represents a safe method as it is performed by injecting fat obtained from the patient himself through minimal cuts, reaching the correction of the deepness of the expression lines in the face.
Procedure
This procedure allows reducing the facial wrinkles, and it is also used to give shape to the face and increase the areas that have lost their volume.
Objective
The objective of the facial procedure is to correct the deep wrinkles or expression lines in the face through the liposuction (fat obtained from the patient himself).
Duration
The facial lipoinjection procedure that we perform in Cancun lasts approximately 2 hours average.
Type of surgery
The facial lipoinjection surgery is Ambulatory, so it does not require hospitalization.
Anesthesia
The advantage of this surgery is that anesthesia is local, it does not require general anesthesia.
Hospitalization
When we perform the facial lipoinjection, we do not require hospitalization as the procedure is ambulatory.
Inconveniences
The inconveniences during the facial lipoinjection are minimal as we use local anesthesia.
Recovery
The time for the recovery is approximately of 1 week for the patient to be practically without any standing inconvenience.
Before

After
Any patient.
Patients that wishes to correct wrinkles or deep expression lines in the face.
It is fundamental
Removal of stitches in the liposuction area within 7 days.
It is not required the removal of stitches in the face.
There are no scars or visible wounds in the face.
Final results within 3 months.
Highly recommended
Dr. Victor Sámano has a wide training in different procedures of facial surgery.
Your best option for facial lipoinjection in Cancun
The testimonials of our patients speak for us, as well as the work that can be observed with the photographs before and after facial lipoinjection, do not hesitate, you deserve it!
[include id="9678″ title=""]
You may also be interested
[include id="9606″ title=""]